We zijn benieuwd hoe het nu gaat met de pupillen van toen !   >> In maart 2009 mocht de nu 20-jarige Rick Onstein pupil van de week zijn bij Sportclub Rekken. Van de wedstrijd tegen Diepenheim kan hij zich niet veel meer herinneren. Wel weet hij nog goed dat hij bij zijn doelpoging de keeper van Diepenheim heeft laten vissen.
Rick woont nog thuis bij zijn ouders aan de Hakertweg. Hij heeft de opleiding metselaar niveau 2 en 3 gehaald en werkt nu met veel plezier bij bouwbedrijf Penterman in Eibergen. Rick heeft bijna alle jeugdteams van Rekken doorlopen. Achtereenvolgens waren dit E2, E1, D2, D1, C1, B1, A1. Daarna is hij gestopt met voetballen. Toen er bij Rekken een zaterdag elftal werd opgericht is hij weer gaan voetballen. Zijn favoriete plaats in dit team is links of rechtsback. Sjoerd en David zijn nu ook weer zijn teamgenoten net als in de A en B jeugd.   Rick heeft heel veel mooie dingen bij Rekken meegemaakt. Een kampioenschap was een paar keer dichtbij maar uiteindelijk is dat nooit gelukt. Wel won zijn team een keer de fairplay cup bij het jeugdtoernooi in het Drentse Valthermond. Rick was met zijn team twee keer in Valthermond en rekent deze tot de hoogtepunten uit zijn voetbal loopbaan.
Naast voetbal is Rick actief bij muziekvereniging Crescendo. In het orkest bespeelt hij de bariton. Daarnaast bespeelt hij ook regelmatig de trombone. En als bestuurslid gaat zijn aandacht vooral naar de jeugdafdeling. Ook is hij actief bij de acties van Crescendo, zoals oliebollenverkoop, oud ijzer en oud papier acties. Ook bij het klaarzetten van concerten doe je geen vergeefs beroep op hem. Een andere hobby waar Rick veel plezier aan beleeft is zijn lidmaatschap van de Rekkense toneelvereniging de Plankeniers.
Wat de toekomst betreft hoopt Rick nog heel lang het vak van metselaar te blijven uitoefenen. Tot slot wil hij graag een eigen huis gaan bouwen op het erf van zijn ouders waar hij dan samen met zijn vriendin Britt in kan gaan wonen.
>> Rick Onstein, hij was pupil van de week op zondag 8 maart 2009  <<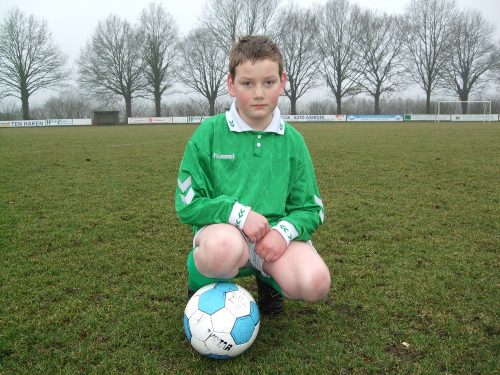 Hij is pas 9 jaar. Fanatiek middenvelder bij het E2 team en heeft al een indrukwekkende supportersschare opgebouwd zoals de hele familie Hengeveld, de hele familie Onstein en de hele familie van moeders kant. Zijn ouders en de twee opa's staan regelmatig aan de lijn om hem aan te moedigen. Hij is erg blij met al deze aandacht want hij wil net zoon goede profvoetballer te worden zoals zijn grote favoriet Dirk Kuyt. Mocht het met het voetballen niet lukken dan wil hij beroepsmuzikant worden. En als dat te hoog gegrepen is dan word het loonwerker of net als zijn vader automonteur.
We hebben het over de gezellige prater Rick Onstein, hij was pupil van de week op zondag 8 maart 2009 bij de belangrijke voetbalwedstrijd Sportclub Rekken tegen Diepenheim. (2-1)     Rick woont samen met zijn ouders Erik en Angelien en zijn 6 jarige broertje Tim op "de Lannever" in de Lannevershoek aan de Hakertweg 2a. Opa en oma wonen in een ander deel van de boerderij.
Naast voetbal is muziek een andere grote hobby. Rick is lid van muziekvereniging Cresendo en krijgt 1 keer per week muziekles van meester Hans. Zijn vorderdingen zijn zo goed dat hij binnenkort met zijn bariton het jeugdorkest mag versterken. Muziek is erg leuk en Rick doet erg zijn best om een heel goede muzikant te worden.  Rick, supporter van PSV vindt dat hij naast voetballen ook heel aardig kan keepen. Bij het E2 team is ook nog wel wat te verbeteren. Er moet beter verdedigd worden. Om dat beter te maken is er nog werk aan de winkel voor zijn trainers Marc en Kevin. Verder heeft hij op voetbal vooral heel veel lol. Tot zijn vriendenkring rekent hij alle jongens die in de E1 en E 2 spelen, maar Job is zijn allerallerbeste vriend.
Rick vond het heel leuk dat hij een keer pupil van de week mocht zijn, maar hij vond het ook wel erg spannend. In elk geval is het hem gelukt een goal te maken door de keeper van Diepenheim te verslaan. Het was wel jammer dat zijn doelpunt niet echt telde voor de wedstrijd van het eerste. Rick en al zijn supporters hebben een fijne middag gehad.